Vincent Colliard, her med ein fortjent kvil på blåisen
På Fri Flyt Utefilm får du sjå filmen frå eventyret til paret Vincent Colliard og Caroline Cöté. Eg tenkte også det var fint å få litt meir bakgrunnsinfo til dette eventyret. Caroline var på veg over Grønland på ski, men la oss sjå på kva Vincent ville fortelle!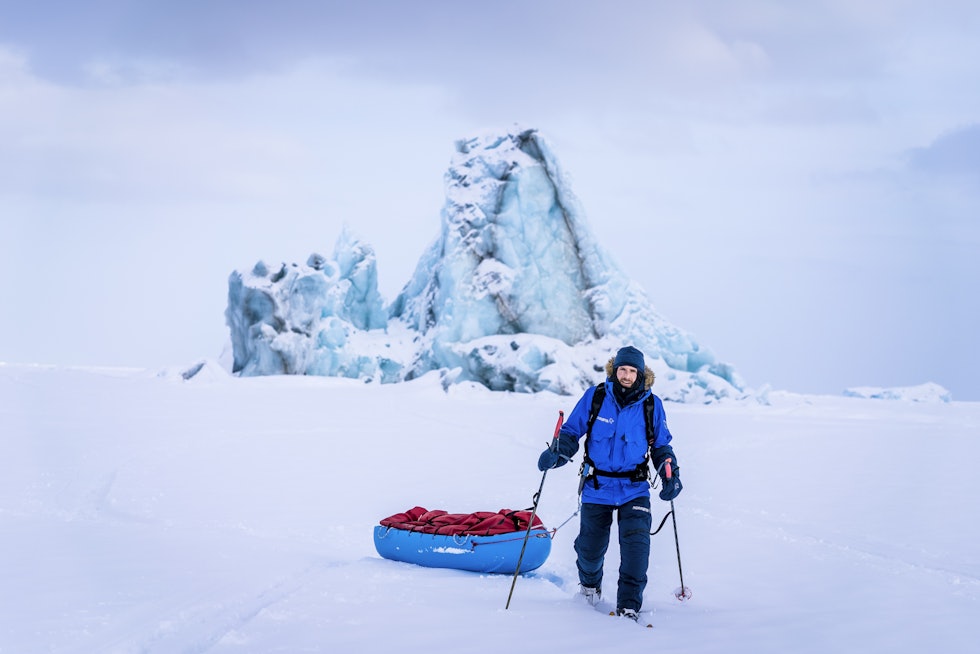 Vincent Colliard on the white planet
– So Vincent, the polar region is waste, why are you taking us to Svalbard on this expedition?
– Because it is to me the polar mecca. Svalbard has it all, icecaps, glaciers, mountains, sea ice, polar bears and weather can be quite interesting. It is that one place that goes from -38c degrees to 0 in a couple of days. Si it will require a strong ability to adapt. And because no one did "Svalbard på langs" in winter and unsupported (starting and ending in Longyearbyen).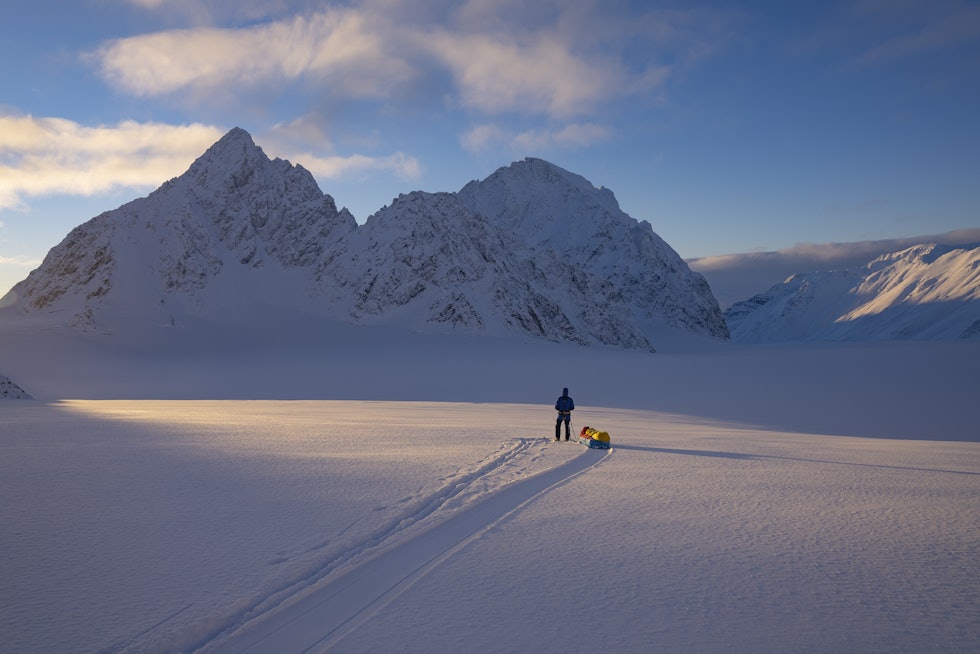 Nature can be cruel, but for those who seek, it can also be rewarding
– Most of us will never try an expedition in this scale unsupported. Tell us what you find so appealing with being the first to do so?
– The excitement. Going into the unknown of the winter with less information takes the adventure at a higher level and challenges ourselves further. Being clearly uncertain about the outcome of the journey is to us very appealing.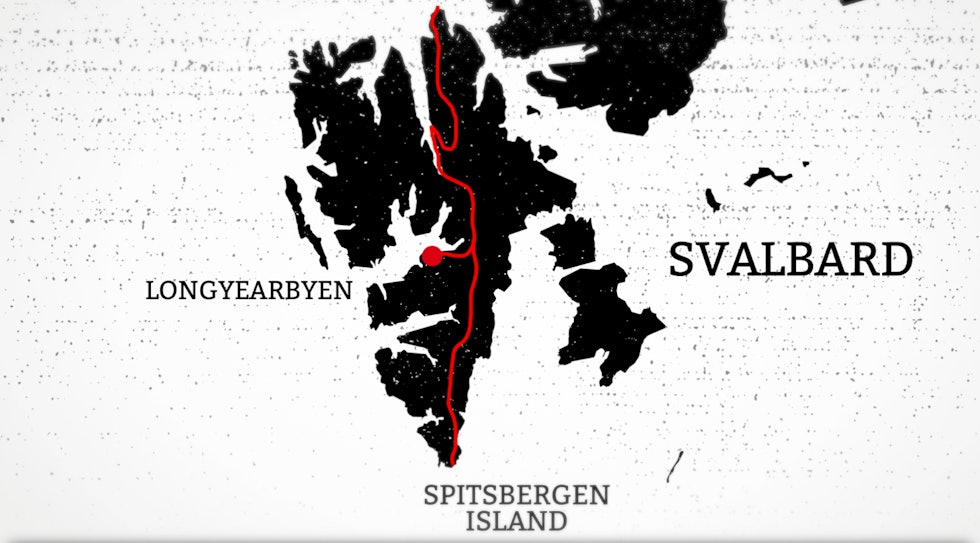 This is how 63 days and 1000 km looks like!
– 63 days is a long period of being out, for anyone. What was the biggest surprise during these days?
–The biggest surprise for me was when, towards the end of the expedition, I had som dark thoughts. In the morning, I stared several times at my poo and it started to look... appetising. I was really hungry!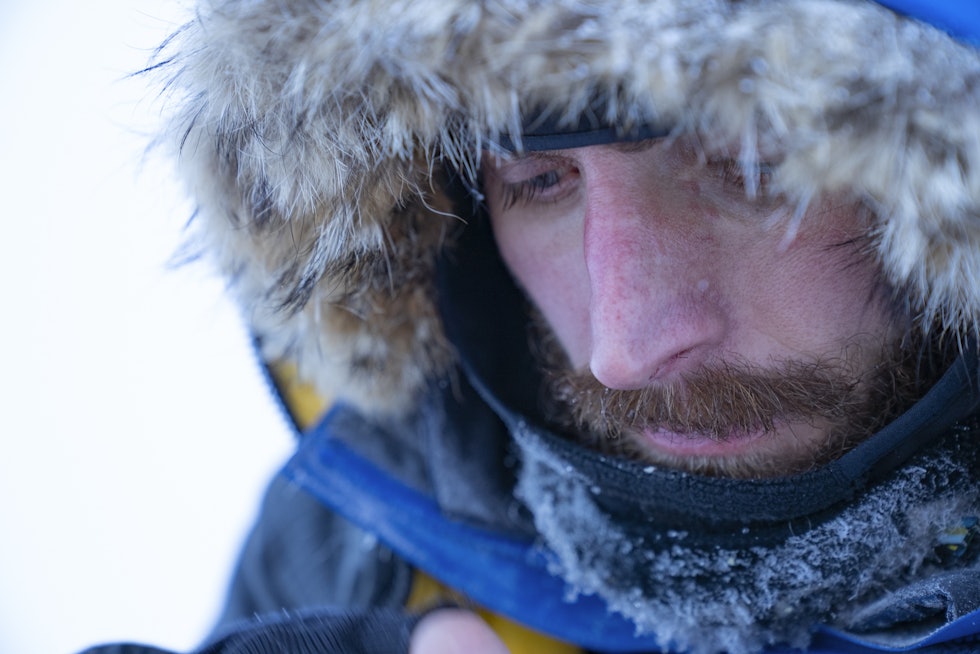 Staying out 63 days in the polar winter makes you focus
– Now you had some time to let it all sink in. What is the strongest memory?
– Caro and I arriving at Sørneset Sørkapp (sydligste punkt på Spitsbergen) in the middle of a low pressure, just a few hours before the first day of the spring. It created an extraordinary bound between Caro and I in this wild nature. We fought hard to reach that point in time. Finally we were able to release some pressure out of our shoulder. Caro cried. She was so beautiful. We would not have claimed the first winter if we would have arrived 1 day into the spring.
– What do you hope to show the audience with this film?
– I hope to show the beauty of Svalbard in winter. That blue light. Also to show that when we put our ego on the side and work as a team, we can go way further. We can set our boundaries in the sky. The body and mind are two amazing machines much stronger than what we thought.